Within the B2B space lies B2G, business to government which involves doing business with the public sector.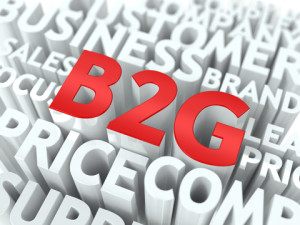 B2G enterprises engage one-on-one with public sector buyers, influencers and decision makers but opportunities to bid for government work generally have to be advertised and posted in the form of  tenders, RFPs, RFIs and RFQs to which suppliers respond.
Doing business with government doesn't always come cheaply. It requires a long term investment in dedicated personnel and resources. According to the second annual American Express Open Government Contracting Survey in 2011 in the USA, small businesses spent an average of US$103,827 seeking federal government opportunities, up 21 % from their 2010 attempts to keep the government as a customer (US$86,000).
In the 2012 / 2013 financial year the Australian commonwealth government let 67,854 contracts to a total value of $39b with 75% of these valued at $5m plus. SME's took almost 31% of the share or $12.5b and the ratio of goods to services sold was 44% goods and 56% services.
The Institute of Public Affairs recently reported that analysis of historical trends of the size of federal, state and local governments in Australia shows that current public sector size is at its highest level since World War II.
Numerous AsiaPacific regional B2G operations have recently established dedicated enterprise divisions in a move towards capturing double digit growth in 2014 by winning these lucrative public sector contracts.
With exposure in sectors such as government, tourism, telecommunications, education, healthcare, and the oil and gas sector the Asia Pacific is proving to be the region of choice for global suppliers.
Enterprise sales contribute to bottom line
Samsung Australia established a Business Enterprise Group in Australia in early 2012. It has a headcount of 40 to 60 across all B2G business platforms and is actively engaging with government, business, health and education throughout Australia.
At the opening of Adobe's new regional centre of excellence for enterprise in early 2013 President and CEO Asia Pacific, Mr Shantanu Narayen said the new facility in Sydney was the result of sustained growth and investment by Adobe in Australia and New Zealand.
Dell's enterprise sales contribute significantly to the company's bottom line.  Its new division Dell Enterprise Systems & Solutions organisation, established in 2012, has developed converged and enterprise-workload products for business, government, health and education amongst others.
A-ZGovBIZ is a marketing services agency specialising in the Australian public sector. Their online search engine Discovery is the leading real time database available to reach government, health and education decision makers, buyers and specifiers.