In September 2017 the NSW State Government announced it will provide an additional $50 million a year for the appointment of business managers in NSW government schools.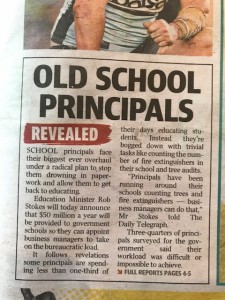 A school business manager (SBM) also known as a bursar, is a senior member of non-teaching staff with responsibility for the business management of schools ie all the administrative and logistical aspects of running a school so that these are done in the most effective and efficient way possible. Through this, they free up the school's Principal to focus on leading teaching and learning.
The SBM role has evolved from that of the school bursar, but whereas bursars typically focussed on financial / administrative matters, SBMs have a broader responsibility.
SBM duties vary from school-to-school and include:
– Financial management and reporting
– Technology procurement and support
– Management of support staff such as teaching assistants, cleaners, maintenance staff
– Property / facility management
– Human resources and OH&S responsibilities
– and relationship management with the education department and external contractors.
The appointment of a school business manager is an opportunity for suppliers to add a new point of engagement with schools whether they be suppliers of technology, financial or administrative services, property/facility services etc. A-ZGovBIZ already has the contact details for business managers in over 1,000 schools throughout Australia. In 2018 we will be actively contacting schools to add the new school business managers to the database.
For more information about the school contact lists available from A-ZGovBIZ go to:
Australian School Principals x 9,424
Australian Schools x 20,884
NZ Schools x 2,501
Education Agencies and Departments x 1,011
School IT Managers x 9,535
Childcare (non-personalised) x 5,385